The 2023 Met Gala took place on the first Monday of May. The event was a celebration of the late, great Karl Lagerfeld, and saw celebrities pay tribute to the designer in numerous ways; some wore vintage designs from the man himself, while others wore creations that were inspired by his aesthetic as rival fashion houses put their own spin on some of his most famous work.
It was a red carpet filled with monochromatic looks – black and white ruled – while we also enjoyed lots of references to the Camellia, plenty of pearls, a touch of tweed and thousands upon thousands of crystal embellishments.
Below, we round up our 10 favourite looks from the 2023 Met Gala. 
Naomi Campbell in vintage Chanel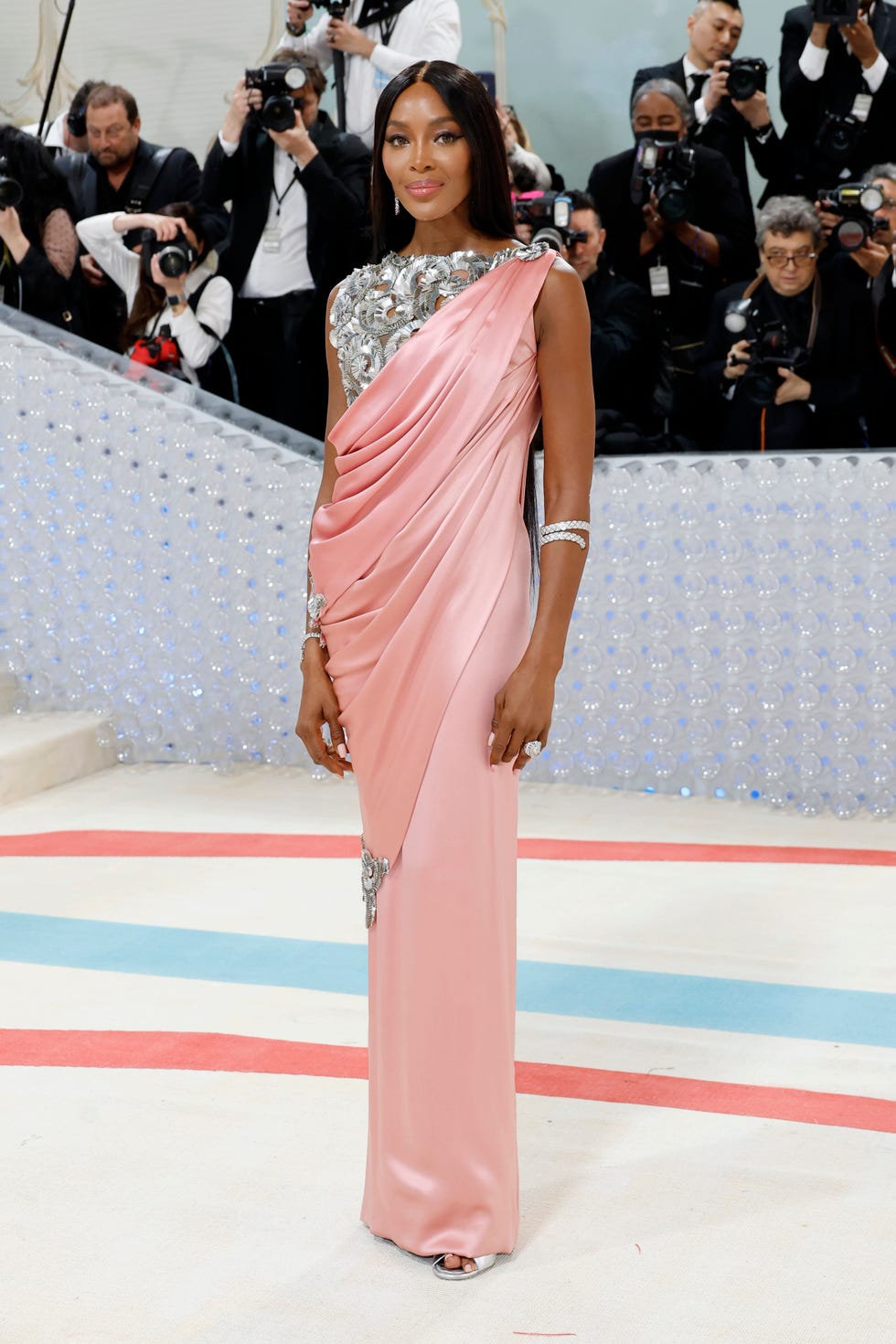 It was the perfect night to wear a little vintage Chanel, and Naomi Campbell – among many other Nineties supermodels – nodded to Karl Lagerfeld by stepping out in one of his own creations. She chose a pink satin gown with bejewelled details from Chanel's spring/summer 2010 couture collection which was chic and elegant.
Lily Collins in Vera Wang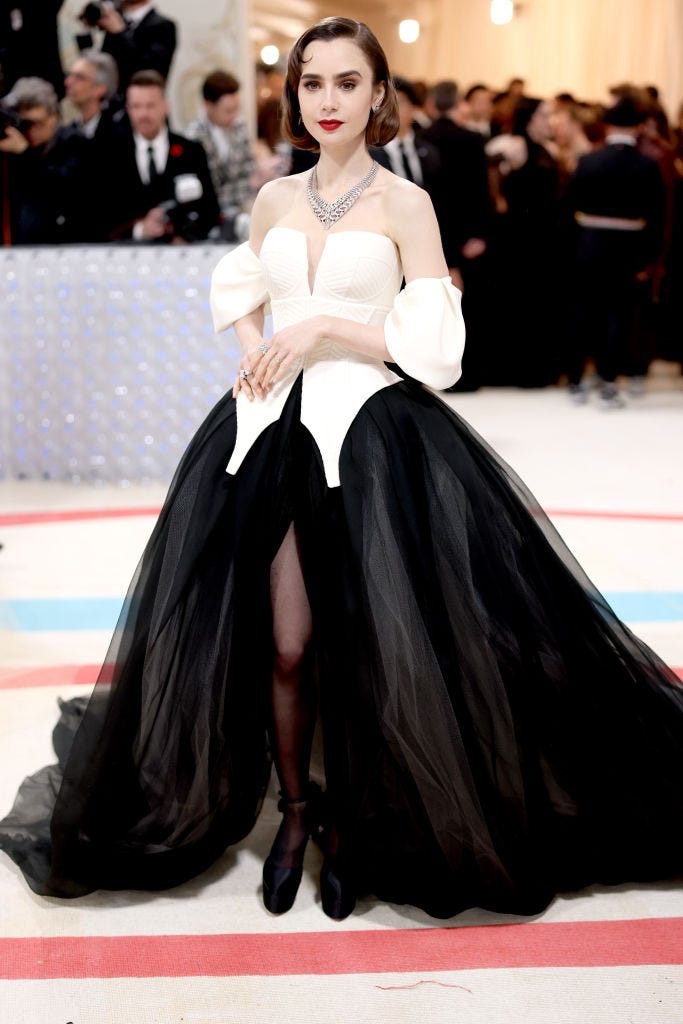 We also had the opportunity to see various designers put their spin on Karl Lagerfeld's work – and we particularly enjoyed Vera Wang's take on his designs. Actress Lily Collins wore a striking dress from the designer that was made up of a white bodice and flowing black skirt, complete with the word 'Karl' sewn onto the train.
Rihanna in Valentino haute couture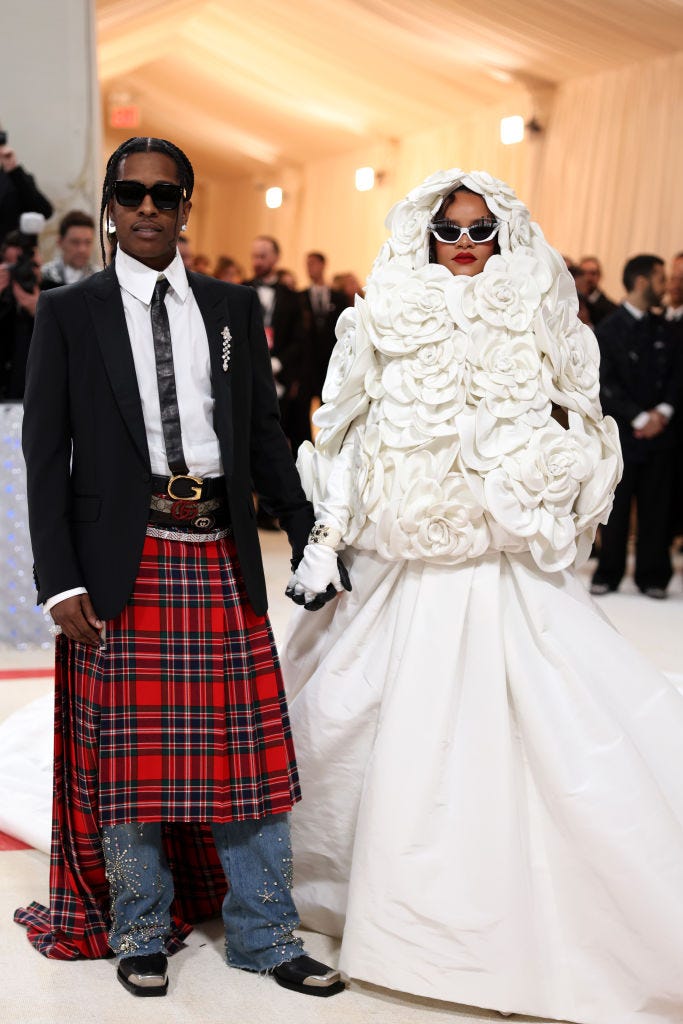 Rihanna is always one of the best dressed Met Gala guests and she did not disappoint for 2023. The singer chose a dramatic white haute couture ballgown from Valentino, which was complete with a floral headpiece which nodded to the iconic Chanel flower, the Camellia.
Michaela Coel in Schiaparelli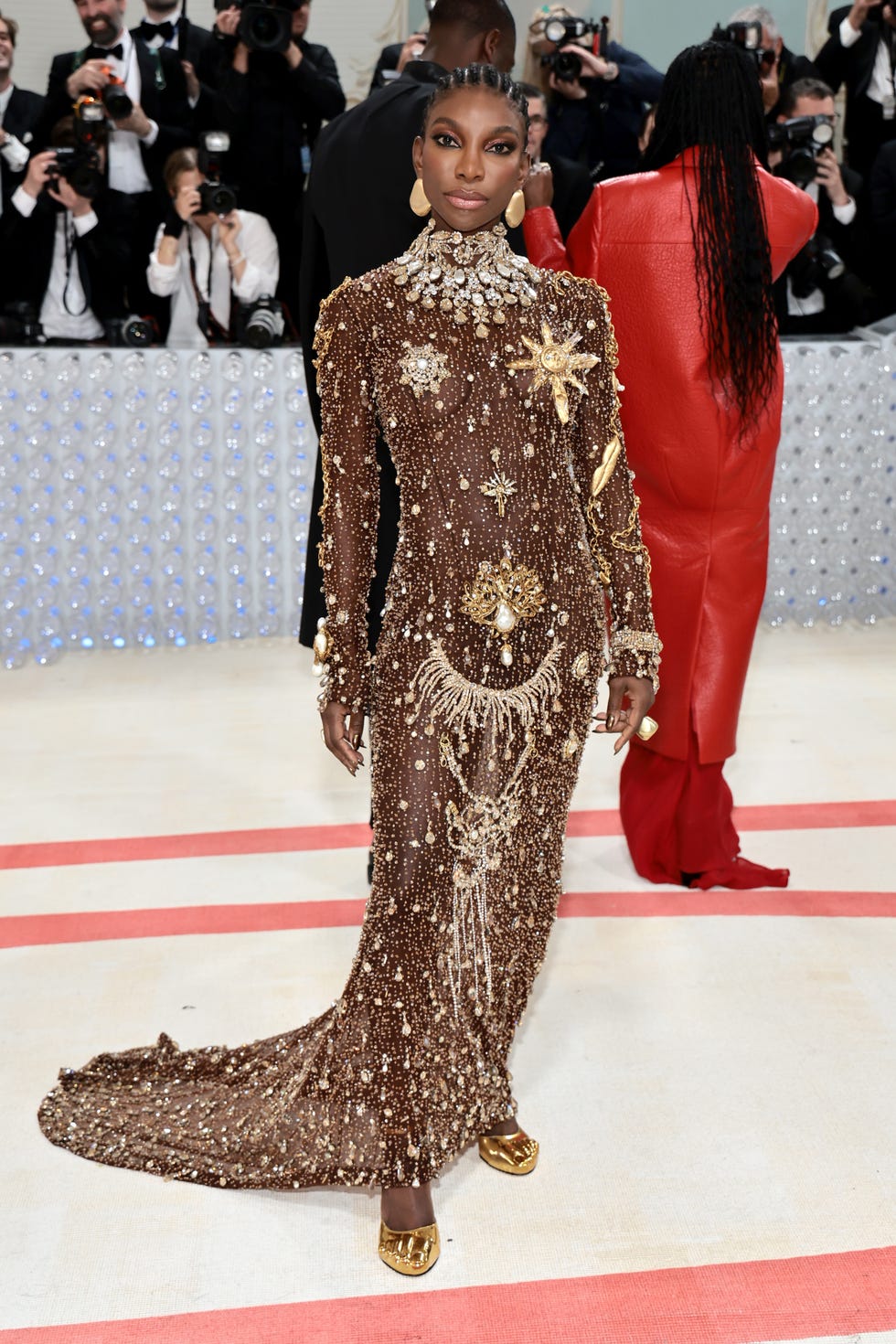 It was a big night for Michaela Coel, who was serving as one of the hosts for the evening, meaning she needed to knock it out of the park with her red-carpet look, something she definitely achieved. The actress and director wore a bejewelled creation by Schiaparelli for the evening, which featured 130,000 crystals
Anok Yai in Prabal Gurung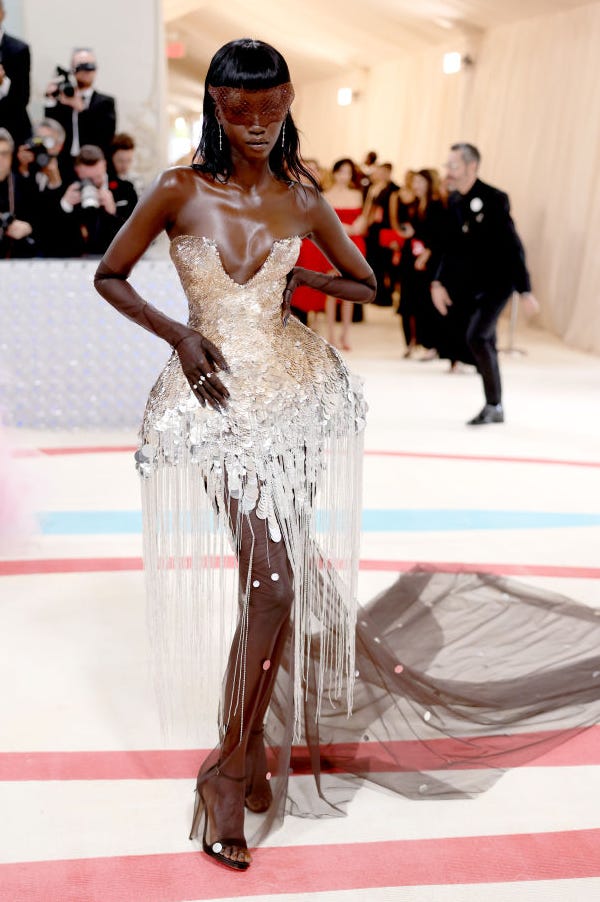 Anok Yai and Prabal Gurung delivered one of our favourite looks on the night, playing with crystals, tulle and the most striking silhouette. She teamed her mini dress with statement sunglasses and sheer elbow-length opera gloves.
Nicole Kidman in vintage Chanel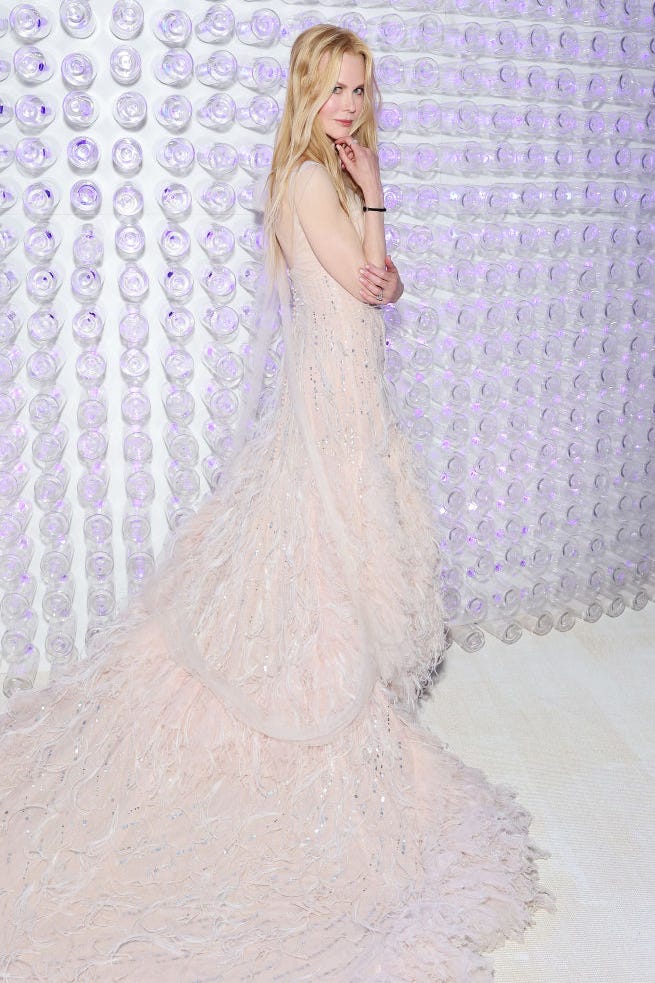 The Met Gala isn't just about looking good – it is also about telling a story with your ensemble, and Nicole Kidman may just have had the best tale of the night. The actress wore the Chanel couture gown that she had first worn in 2004 when she starred in that iconic Chanel No. 5 fragrance advert directed by Baz Luhrmann.
Anne Hathaway in Versace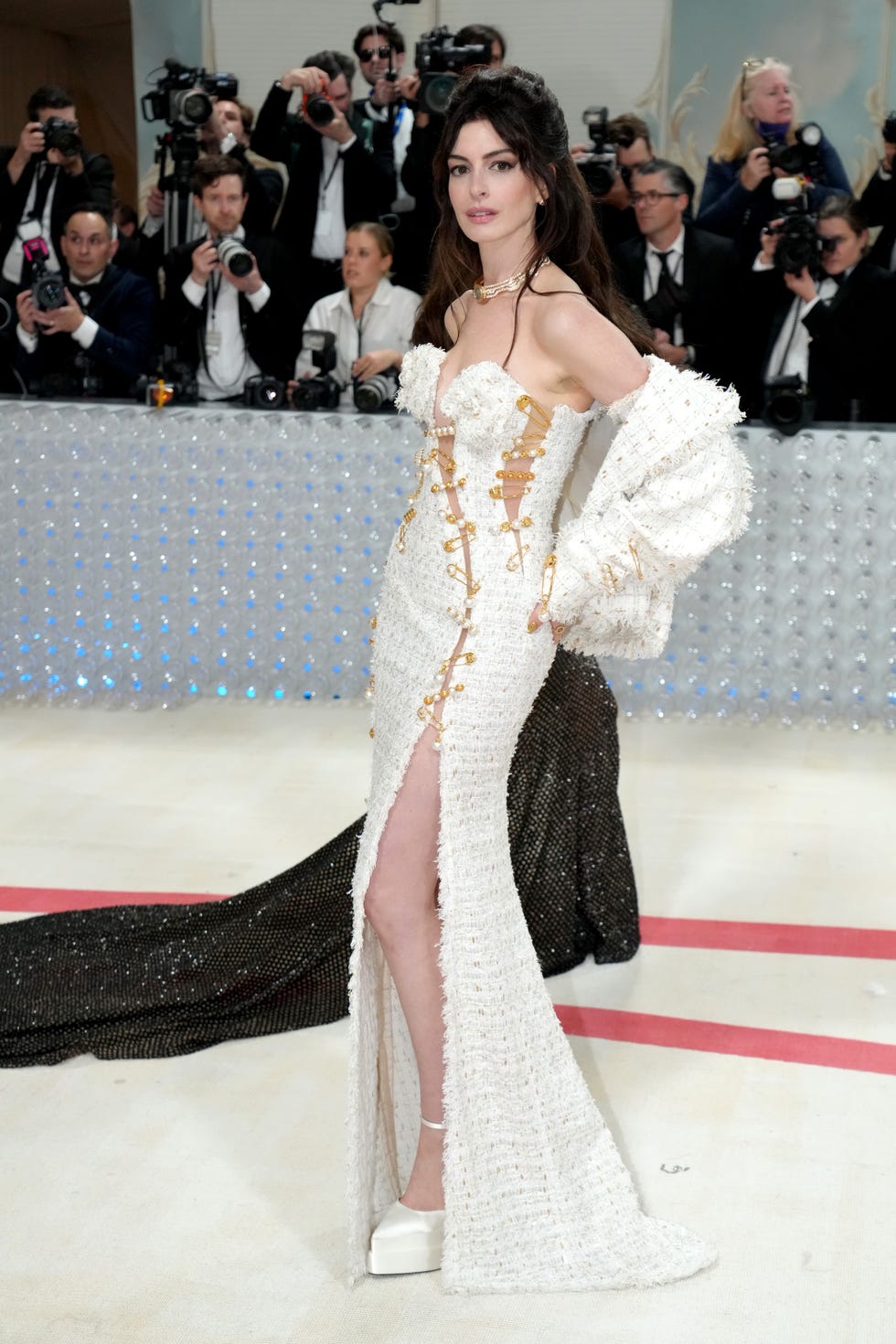 It is always great to see fashion houses pay tribute to one another and this particular theme gave us plenty of that. One of our favourite takes on this was Anne Hathaway's ensemble, which was the perfect mishmash of Versace and Chanel. The actress wore a floor-length, monochrome, tweed gown, complete with Versace safety pins holding it all together.
Lily Aldridge in Oscar de la Renta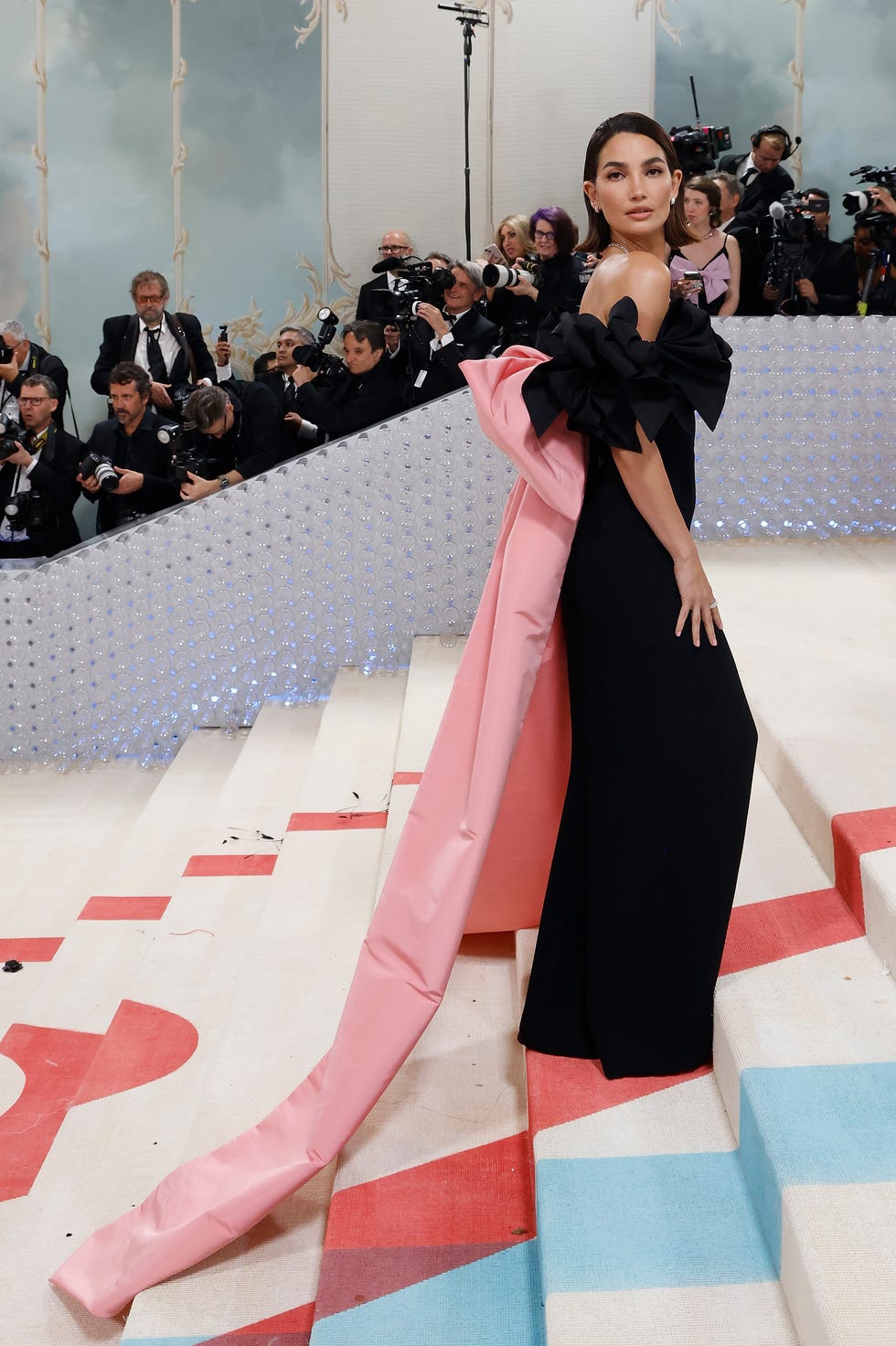 Lily Aldridge never fails to deliver chic and effortless. Her 2023 Met Gala look was just that as the designers behind Oscar de la Renta put their spin on Karl Lagerfled's designs. The black gown featured a pink train and dramatic bows on the shoulder.
Camilla Morrone in Rodarte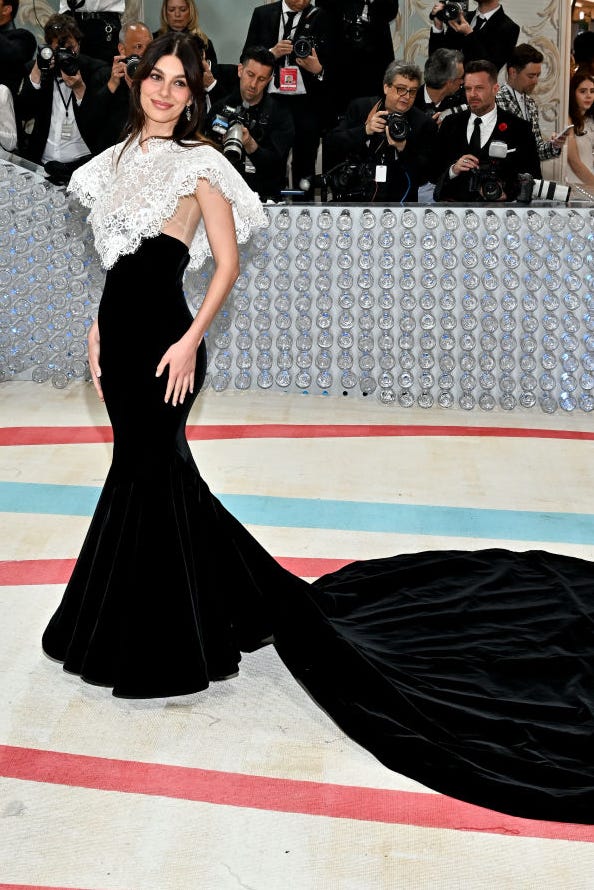 There were plenty of monochromatic looks on this Met Gala red carpet, and one of our favourites was actress Camilla Morrone's beautiful Rodarte gown. The dress was made of black velvet and white lace, and featured a dramatic train and cape detail. It perfectly nodding to Lagerfeld's aesthetic, but in a very Rodarte way.
Allison Williams in Patou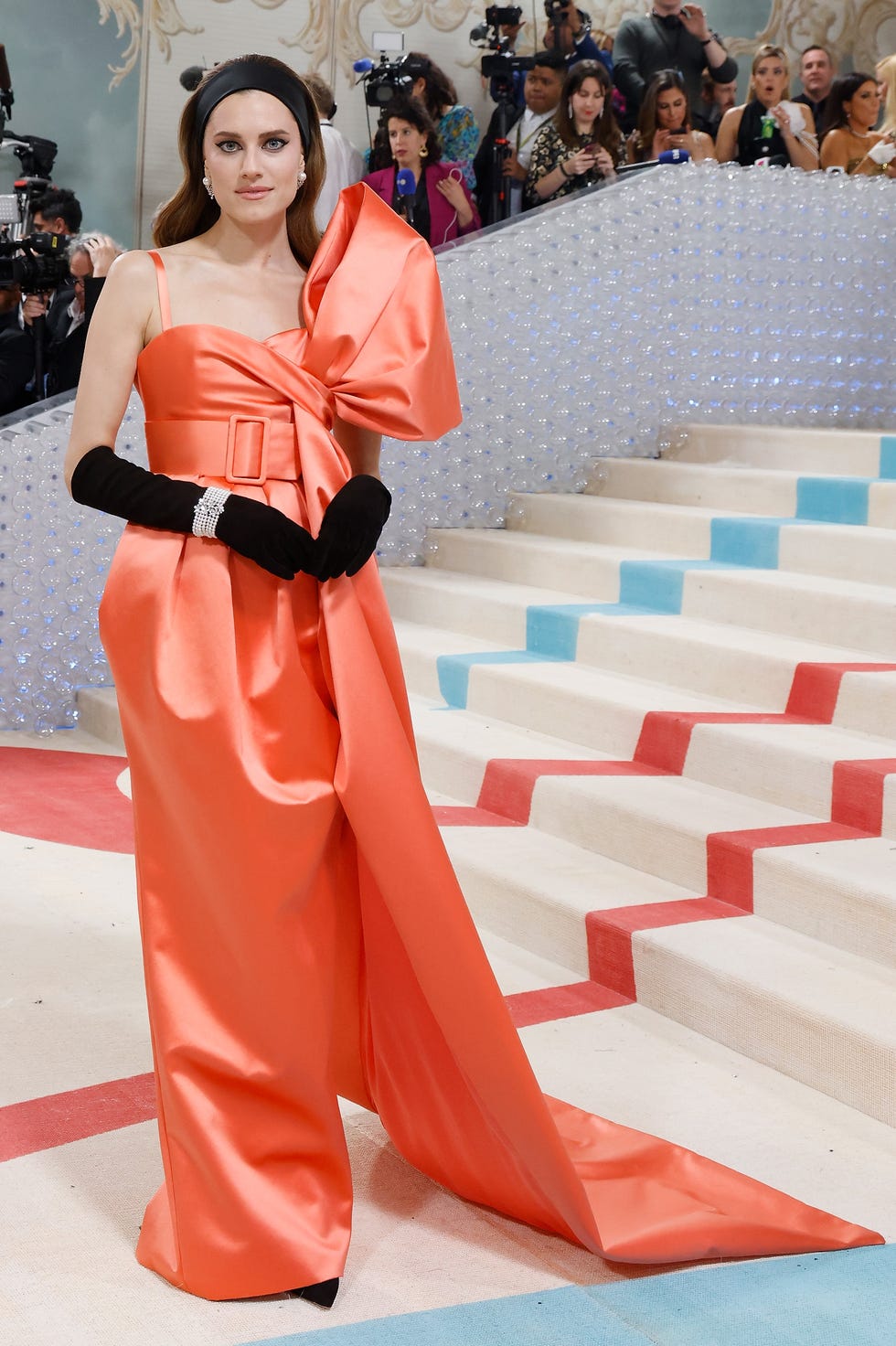 Allison Williams nodded to some of Karl's earliest days, choosing to wear a design by Patou. The bright orange satin dress was all drama and elegance; it featured a huge bow on the shoulder, a statement belt, and she paired it with black opera gloves and a matching hairband.